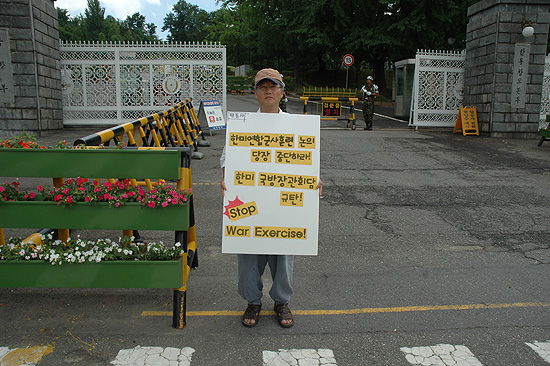 * Image source:
Solidarity for Peace And Reunification of Korea
SPARK secretary, Kim Jong-Il in front of the Ministry of National Defense, ROK, July 20, 2010
"Immediately stop the discussion on the ROK-US war exercise!
"We denounce the meeting by the ROK-US Defense Secretary& Minister"
* Image source:
Hankyoreh
, 'The USS George Washington aircraft carrier'
____________________________________________________________
http://www.koreatimes.co.kr/www/news/nation/2010/07/205_69826.html
F-22 'Raptors' to join naval drill
S. Korea-US joint exercise to be held July 25-28

By Jung Sung-ki, Staff reporter

07-20-2010 18:57

Four state-of-the-art U.S. stealth fighters will join a massive combined air and naval exercise to be held by South Korea and the United States in the East Sea later this month in a show of the allies' strong deterrence plans against North Korean provocations, South Korean and U.S. defense officials announced Tuesday.

The plan was made public after consultations between Defense Minister Kim Tae-young and his U.S. counterpart Robert Gates in Seoul. The two defense chiefs discussed a series of combined maritime and air readiness drills in waters around the peninsula in the coming months.

Gates arrived in Seoul late Monday to attend the "

2+2

" meeting that will include Secretary of State Hillary Clinton, South Korean Foreign Minister Yu Myung-hwan and Defense Minister Kim Tae-young.

The exercise, "Invincible Spirit," will be the largest in scale with the participation of 8,000 Army, Air, Navy and Marine forces from the South Korean and U.S. militaries. The drill will be held from July 25 to 28.

About 200 fighter jets, and naval aircraft and helicopters will fly training missions in and around Korea. In addition, approximately 20 warships, including the

U.S. nuclear-powered aircraft carrier USS George Washington

, the South Korean Navy's 14,000-ton Dokdo large-deck landing ship, and attack submarines will participate in the exercise.

The deployment of the F-22 Raptor, the world's most advanced aircraft, will be symbolic in heralding the solid and broader alliance of the two governments against emerging regional threats, including a North Korean provocation, said Maj. Gen. John A. Macdonald, director of the ROK-U.S. Combined Forces Command's operations bureau.

"The Raptor is the capability that we brought here to help in the defense of the Republic of Korea. It is part of the ROK-U.S. alliance," Macdonald said.

"We will have four Raptors to participate in the exercise, and they will be involved in strike operations that will take place on ranges."

This will be the first time that the "fifth-generation" radar-evading aircraft will participate in exercises with South Korea. The F-22, built by Lockheed Martin, is equipped with an active electronically scanned radar for cruise missile detection and is capable of evading advanced air defenses to bomb ballistic missile launch sites.

The single-seat fighter can fly at a maximum speed of Mach 1.8 and has an operational radius of 2,000 kilometers. Its weapons systems include AIM-9 Sidewinders and Joint Direct Attack Munitions (JDAM).

Macdonald added allied troops will be engaged in "network defense" to ensure they are secure in adverse conditions.

"The exercise will sharpen our military readiness by improving interoperability and the combined operational capability of the ROK-U.S. combined forces, while demonstrating the resolve and strength of the alliance," Gen. Han Min-koo, chairman of the ROK Joint Chiefs of Staff, said in a statement. "We stand fully prepared to respond militarily to any further North Korean provocation."

The exercise was originally scheduled to be held in the West Sea, but defense authorities in Seoul and Washington changed the venue apparently after strong protests from China.

The USS George Washington carries nearly 5,000 crew and flight staff, including 400-plus officers and more than 4,000 enlisted sailors.

The 97,000-ton vessel carries more than 65 aircraft, including F/A 18 Hornets, F/A 18 E/F Super Hornets, EA6B Prowlers, E2C Hawkeyes, C-2 Greyhounds and SH-60 Seahawk helicopters.

Joining the East Sea exercise will be the USS McCampbell, USS John S. McCain and USS Lassen (* Aegis Destroyers)

Earlier this month, the U.N. Security Council issued a statement that expressed "deep concern" over the sinking of the frigate Cheonan in the West Sea in March, but did not identify who was responsible for sinking the ship.

China, North Korea's most important ally, was reportedly the main force behind the watering down of the Security Council resolution. It is also very uneasy about the ROK-U.S. joint exercise involving a U.S. nuclear-powered aircraft carrier.


_________________________________________________________

You may also see Hankyoreh
http://english.hani.co.kr/arti/english_edition/e_national/431169.html

ROK-U.S. plan additional joint naval exercises
The exercises, to be held in the Yellow Sea, are expected to draw additional criticism from China
Posted on :
Jul.20,2010 12:33 KST
Excerpt
s
The South Korean media reported that the country developed a cruise missile 'Hyunmoo 3-C' with a 1500 km range that can reach Beijing and northeast region of China. Observers said that South Korean government leaked the fact in order to place a power check on China. (* South Korea has become the forth nation to develop the 1500km long range missile after the United States, Russia, Israel. The Korean media reports)

One Chinese newspaper, which took a hardline stance in response to the joint ROK-U.S. military exercises, posted on the front page of its Monday edition, "South Korean Cruise Missile's Range Covers the Region. It is Feared that Tensions Will Increase Around the Region."
_________________________________________________________
You may also see
http://www.globalresearch.ca/index.php?context=va&aid=20149
Confronting both China and Russia: U.S. Risks Military Clash With China In Yellow Sea
Rick Rozoff
http://rickrozoff.wordpress.com
_________________________________________________________

*

Other related articles from Rick Rozoff on July 20, 2010




Voice of Russia
US, South Korea to conduct war games
July 20, 2010
Google
U.S. Deploys Nuclear-Powered Aircraft Carrier To South Korea
Associated Press
July 19, 2010
By ANNE FLAHERTY
Excerpts
:
The carrier was expected to be in South Korea's port of Busan by Wednesday
and could participate in an upcoming military exercise.
The nuclear powered carrier, one of the world's largest warships,
will be accompanied by three destroyers — the McCampbell, the John S. McCain and the Lassen
.
The Cheonan's sinking was considered South Korea's worst military disaster since the Korean War, which ended in a cease-fire in 1953.
No formal peace treaty was ever signed
, and more than 28,000 U.S. troops remain stationed in the south with a vow to protect its critical ally.
The deployment of the aircraft carrier could be seen by North Korea as a particularly aggressive move by the United States because of the ship's sheer size.
According to a Navy website, the George Washington is 244 feet high from keel to mast and can accommodate some 6,250 crew members.